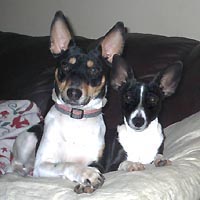 There is no doubt that Carol contributed immensely to the bright future of
the Rat Terrier Breed. She loved her dogs more than life itself. Being a
very conscientious breeder she strived to produce the best of the best.
They were her loving companions first and foremost but sharing the joys
with having someone adopt a pup from her brought the best gift of all.
She was more than willing to find that perfect home for each and every
puppy she produced and matched up individual personality's of the pups
for every new home. Her time as Regional Director for the NRTA was also
a great contribution in bringing the Rat Terrier into fruition.
She will be missed very much...........We all love you Carol !!