Legacy's Story....no pun intended!!!
The Agility Trial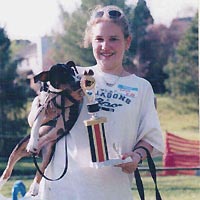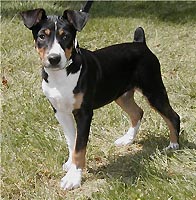 It was a very proud Moment for my Daughter Tanya when our 4 month old Decker female, "Legacy" won the agility trial At the Rat Terrier Playday in Tenn. Tanya Trained her with a crash course so she could compete in this event. Legacy had no problems doing the jumps, balance beam, teepee or any other obstacles in this event. Of course she had some liver as Motivation, but the fearlessness of this puppy and child to try and do things which they have never done is astounding! All in front of people they never saw before. Tanya and Legs, I am VERY proud of you both!
Submitted by: Michelle Heist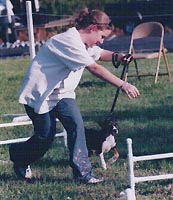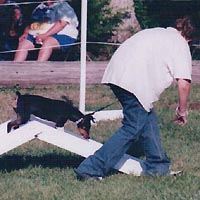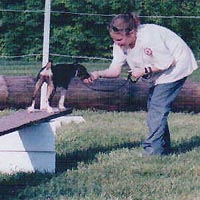 Tanya taking Legacy through the course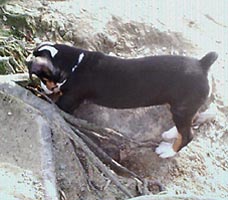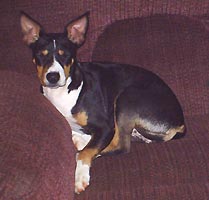 And off the course, practicing and resting !!!
---

Climbing Trees ?????
This is Laura Jean, 16 pounds 15" high. Whenever she sees a squirrel in the tree, up she goes! When she figures out how to
jump from tree to tree, that squirrel has had it. She walks all around up there like it was nothing. All of my smaller rats just
watch her in amazement, because they can't do it!! Shirley Holubec, TX

---
"Pete" the Rat Terrier
barking up a tree !!! Louisiana

---
Fly Ball Champion of San Diego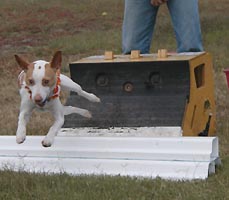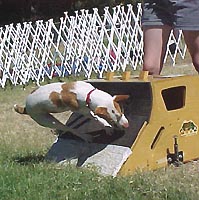 Tyrant doing a "swimmers turn" off of our flyball box, he has a
small tennis ball in his mouth in both pics.
I bought my dog for a sport called flyball and named him Tyrant. I want to brag about Tyrant a little. He started his flyball career last December, he is the fastest small dog on my team (my team, INXS, is the fastest team in San Diego), and he already has his FDCh title (FDCh means Flyball Dog Champion). Tyrant is very smart, cute, and sweet. Everyone who meets him loves him, and I've had a lot of people tell me that he is the prettiest Rat Terrier that they've ever seen. Enjoy !!!
Lynnea Gillett, CA
Back To Index
---