Deckers: Companions or Monsters..............
I am writing this article to let people know from my experience that the Decker Line of Rat Terriers are not as aggressive as some believe they are.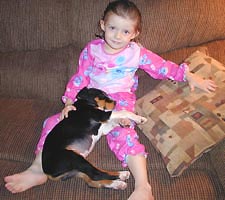 There seems to be some misguided beliefs that this strain of Rats are uncontrollable, Easily
turned into killers, highly aggressive. I heard all of that when I was researching the lines and looking for just the right dog for my breeding program. I have always loved the regal look of the Decker Strain and have striven to attain a breeding pair with just the right temperaments and Conformation to improve on my lines. I could never understand HOW, IF these dogs are so aggressive could be hunted in packs, OFF lead and cooperate as a team with their other pack members be they males
or females. It just did not add up.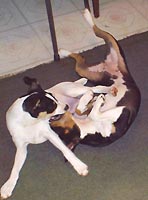 I Purchased my First Decker Dog from Guy and Sherri Chatterton in NC. I visited with them and
met their Deckers before placing a deposit on my Puppy. The Momma dog was protective of her puppies, as all momma dogs should be, but she calmed right down when comforted by her owners. The sire to the puppies was a beautiful male, Loyal to his owners as he should have been. I believe a certain aloofness SHOULD be in all rat terriers. We brought Legacy home when she was 9 weeks old and have been very pleased with her. Her temperament is of a very mature dog, but she also has a very goofy side to her.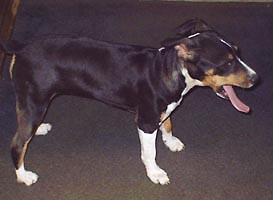 Legacy is Very intelligent and highly food motivated. She is already quite the hunter, but also is very gentle with my puppies and children that come to the house. She is very accepting to other animals and strangers that approach.

I was so pleased with her, I decided to purchased a mate for her. So, I went searching again. I found Drago in Conn. at Burz' Kennels. They were very helpful picking the right temperament for my situation. While Legacy was a very mature girl, Drago is quite the opposite. He is very playful and Super mischievous! He dares me to play with him, steals rolls of toilet paper, and is just a huge cuddlebug. You know, doesn't this remind you of Toys, Mini's or Standard size rats??

I guess my point is, Deckers ARE Rat terriers. Yes, They are Prey Driven, But so are Correctly bred smaller rats. Keep in mind folks, Rats are HUNTING dogs. They SHOULD have prey drive. People say these dogs will kill all other dogs, but I hear more stories from people who have Mini and Standard rats killing other rats and puppies. ANY Rat terrier will get shy, aggressive, destructive, when raised in a kennel full time, Not socialized correctly, abused, etc..... This strain of rats is JUST Like the smaller versions. They LOVE People. They Love to be included. They are goofy and playful, They are also very protective of the people they love. Mr Decker strived to retain these qualities. Drago and Legacy sleep with me every night.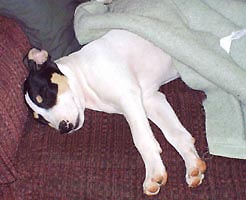 If you are thinking of owning one of these dogs as with all Rats and other breeds,
PLEASE keep the following in mind....

Make them part of your family and include them in family activities.
Socialize them with other dogs and people at an early age.
Positive discipline!!! This is a must. Do NOT let bad behavior begin in the first place.
Consistency is the key.
These are Very intelligent dogs, don't let them take over your house.
When in the learning stages, keep constant supervision and correct them as necessary. There intelligence makes them clever so keep on your toes.
Submitted by: Michelle Heist, AL
Back To Index