National Rat Terrier Association
26 Park Drive Rocky Hill, CT 06067
Phone 860-563-2293
E-mail nrta@cox.net www.nrta.com
~~~~~~~~~~~~~~~~~~~~~~~~~~~~~~~~~~~~~~~~~~~~~~~~~~~~~~~~~~~
We are looking for your Rats Funny faces or Actions

Send us an email or snail mail picture of your ratties doing funny things, face-wise or in some peculiar action. It will be fun to show a bunch of these pictures and cause a lot of giggles for all of us. It can't have a story to it, just a funny picture, something to make you think about what on earth is this dog doing! You can remain anonymous……..
Here are a couple to start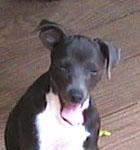 .....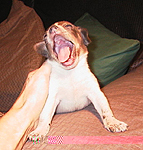 .....
.........................Boy is it hot!!!....................Wahhhhhh .................Na Na Na Na Na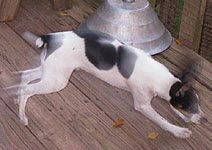 Caught in action
~~~~~~~~~~~~~~~~~~~~~~~~~~~~~~~~~~~~~~~~~~~~~~~~~~~~~~~~~~~
If you would like to be listed on the NRTA website as a member please let us know and we will post your contact information. Due to people wanting their privacy and confidencial postal and emailing addresses we request your permission.
Happy Holidays to Everyone

---
Champion Of Merit
We are once again looking for more candidates for Champions of Merit dogs that will be featured in the newsletter and on the NRTA website.
Dogs must be at least 1 year of age for submission. They must be registered with the NRTR. Both ears should be the same; all styles of ear sets are included. We cannot accept one up and one down.
Regardless of what the dog looks like to you, we can only judge the dog by the photos sent in. We look closely at the standards for the breed in choosing our winners.
Send in at least 3 pictures showing front, side and rear views of the dog.
Print and fill out this quick forhttp://www.nrta.com/champ2002merits.html
Send all submissions to:
Sherri Chatterton
4796 Nursery Road
Morganton, NC 28655
Email terrier@conninc.com
Please send in your potential champion!

---
Dogs that have been accepted into the Foundation Stock for this quarter
Neals Tipper

RPKs Sandman
~~~~~~~~~~~~~~~~~~~~~~~~~~~~~~~~~~~~~~~

Dog's Applying for Foundation Stock

The following is a list of dogs and their heritage applying for foundation stock dogs. This list will be posted for 3 months in each issue of the newsletter and on the internet on the NRTA web site.

Dog - Shelly's Weeping Willow
Parents - Legend Of Stevie Ray
Kalshilow Vawgh
Grandparents Skinny Red
Jonda's Fancy Bridgett
Ginett's Creek Homer
Ginett's Creek Sugar
---
FOUNDATION STOCK NETWORK
Our Rat Terrier Foundation Network is now in motion. This Network of breeders is dedicated to producing good dogs for the improvement and the preservation of the breed. Why? With the continuing watch on the health survey it is essential that our breeds problems decrease and not increase. We are asking all our breeders to participate in the project.
We have created a foundation stock registry database that will list those dogs that qualify. This will make the search for stock free of defects easier to locate. In addition the database will also identify and marks carriers of genetic defects. Any dog entering the system must have 3 generations of complete pedigree information. It is the goal to compile 200-300 dogs to be used for studbook records that must be free of and free of producing all major defects. The Registry will be kept open to allow new blood to enter which is essential to the future of the breed.
If you would like to join go to http://www.nrta.com/breedforfoundation/networkfoundation.html or email us for information sent to you. Applications can be submitted online or by postal mail.
~~~~~~~~~~~~~~~~~~~~~~~~~~~~~~~~~~~~~~~
The Foundation Network List of Breeders
New Deb O Sullivan
New Karen Bodey
New Monika Miller
New Andrea Ryan
April Snapp
Lou Blanco
Rosalie Rinear
Michelle Heist
Margaret Burz
Paulette Buckner
Peter Precourt
Shirley Holubec
Kerri Darr
Barbara Cox
Marion Shiller
Jan Sanders
~~~~~~~~~~~~~~~~~~~~~~~~
Thank you to all for your hard work in improving the Rat Terrier as a Breed

---
The following list of people are available to take in a Rat Terrier that is in need. Please contact them if you are someone who is in need of finding a home.
.
Karen Miltmore Washington, 509-662-3356,
E-Mail JKMilt@msn.com
Susan Hege Shannon, NC 910-875-4807
E-mail rainbowacres1@yahoo.com
Heidi Zbleski Comstock, WI 715-822-5580
E-mail bkzhlc@chibardun.net
Kathrine Loftis Fayatte, AL 205-904-8782

Carol Bowers Homosassa, FL 352-621-3110
E-mail cjkennels@rdee.net
Deb O'Sullivan Pawling, NY 845-855-8162
E-mail eponarats@earthlink.net
Mike Brown, Coalville, UT 435-336-0511
E-mail BrownDairy@hotmail.com
Holly Egerer, Clearwater, MN 320-558-6820
E-mail regerer287@aol.com
Rescue and Adoption Board is now up and running on the NRTA web site. If you need to post a dog for http://www.nrta.com/rescue.html
Here people can post dogs that need homes or want to rescue a rat in need. Please check it out. There are postings from many states in the USA. Help us find a match for some of these rats.
~~~~~~~~~~~~~~~~~~~~~~~~~~~~~~~~~~~~~~~~~~~~~~~~~~~~~~~~~~~
If you wish to be listed as a breeder with the NRTA, you need to fill out a Breeders Application, register your dogs with the NRTR and abide by the Codes of Ethics. You can locate this information at here or email us at nrta@snet.net to have the forms mailed to you or call us at 860-563-2293.
~~~~~~~~~~~~~~~~~~~~~~~~~~~~~~~~~~~~~~~~~~~~~~~~~~~~~~~~~~~
Coat color inheritance is a valuable tool for the breeder who wants to also include color breeding in their program. It includes instant color crossing results (over 2800 crosses), color identification photos, Chat rooms with discussions on genetic inheritance, breeding problems and how to solve them and coat color - questions and answers.

---

LIST OF NRTA OFFICIALS

The following is a list of the NRTA officials. Please contact the representative that is closest to you if you have any questions. This list is subject to change on a quarterly basis; please check your current newsletter for any updates.

Cabinet Members

President Margaret Burz - CT - 860-563-2293 E-Mail nrta@snet.net
Vice President Barbara Cox -Texas 409-386-1787 E-Mail barbarasbabies@prodigy.net
Treasurer Chet Jackson - CT - 860-563-2293 E-Mail nrta@snet.net

District Vice Presidents

Chet Jackson - CT - 860-563-2293 Nrta@snet.net District 1 New England
Marion Shiller - Texas - (512) 455-9181 E-Mail rtkennel@aol.com District 2 Southwest
Lou Blanco - California - 831-763-9121 E-mail Cdrkennels@aol.com District 5 West
Guy Chatterton - NC -(828) 584-6584 E-Mail yankee1@conninc.com District 3 South

Regional Directors

Stan Simon-MI-517-593-3405 North
Peter Precourt -CT - 860-228-9691 E-Mail amstonratterrier2@juno.com -New England
Shirley Holubec - TX - 830-535-6507 E-Mail holubecsrats@wireweb.net South
Mike Branch - NC - 336-366-2845 E-Mail mdjjbranch@surry.net South
Sherri Chatterton - NC -(828) 584-6584 E-Mail terrier@conninc.com South
Deb O Sullivan - NY - 845-855-8162 E-Mail eponarats@earthlink.net East

State Inspectors

Brenda Morris -IN - 812-883-2318 E-Mail moratz@blueriver.net
Kerri Darr -WA - 360-673-2861 E-Mail terrier4u@scattercreek.com
Kathy Mateleska -NC - 704-633-1326 kamatel26@yahoo.com
Joe Nonidez - GA - 404-529-1775
Jackie Hagberg- CA- 209-674-4355 E-Mail JackieBHagberg@webtv.net
Roxanne Laing - CA - 209-966-2840 E-Mail ohrats@sierratel.com
Gail Dykstra - MT - 406-883-9410 E-Mail monarch@aboutmontana.net
Paulette Buckner - MT - 406-358-2480 E-Mail buckner@midrivers.com
Heidi Zbleski - WI - 715-822-5580 E-Mail bkzhlc@chibardun.net
April Snapp - ME - 207-654-2399E-Mail ratts@tdstelme.net
Susan Hege - NC - 910-980-1993 E-mail rainbowacres1@yahoo.com
Kathrine Loftis - AL - 205-904-8782
Carol & Jerome Bowers - FL 352-621-3110 E-mail cjkennels@rdee.net
Teresa Pitts - GA - 770-969-8861 E Mail Tpitts82@yahoo.com

Decker Giant Advisory Team
Tim Brown
Rosalie Rinear
Stan Simon
Guy Chatterton

---
To Register With the National Rat Terrier Registry (NRTR)
The NRTA database tracks color genetics and other tell-tail genetic indicators such as NB-tails. The Decker Rat Terrier is being registered along with the percentage of Decker blood that is actually carried. We have listings up to 9 generations tracking back the history of our Rats on many of our dogs including the decker strain that goes back as far as the original Decker's Henry.
By registering your dogs through the NRTA you help insure the protection of the breed. We maintain records that clearly define the development of our breed. We record not only your dog's ancestry, but define a clear picture of the dogs that went into the makeup of the breed and how it has changed since its introduction to America.
*****************
Thank you to all who have cared about the Rat Terrier and participated to keep them a sound healthy breed in the future.
If anyone needs to discuss any issues with the NRTA or has some suggestions to make, please feel free to contact us anytime at nrta@snet.net or call 860-563-2293.
If we don't here your comments or suggestions we will never know you have them.
Thanks, NRTA
NRTA Code Of Ethics
NRTA Breeders Code Of Ethics